IT IS THE PERFECT ESCAPE… UNTIL THERE IS NO ESCAPE
Welcome to Turtle Cove.
A luxury resort surrounded by pristine sea and the dense beauty of the jungle, it is the perfect escape from the stresses of life and work. For couples Lou and Adam, Eliza and Noah, a few days spent relaxing on the beach, while their kids are happily distracted, is exactly what they need.
But appearances can be deceiving.
There's a strange tension brewing at the resort, with relations between the hotel and the locals threatening to spill over into violence. This is nothing though compared to the strained atmosphere between the two families. They haven't been friends for long and they are starting to realise they don't really know each other at all.
Except for one of them. One of them knows another very well.
And they have a score to settle.
This is a first-class, escapist thriller for fans of The Sanatorium, The Hunting Party and The Castaways.
OUT APRIL 2022
AVAILABLE TO PRE-ORDER NOW
The Flower Girls
The most terrifyingly compelling thriller of 2019.
YOU'LL NEVER FORGET THE FLOWER GIRLS
The Flower Girls. Laurel and Primrose.
One convicted of murder, the other given a new identity. Now, nineteen years later, another child has gone missing. And the Flower Girls are about to hit the headlines all over again…
Reviews
'Tense, intriguing and memorable. I couldn't put it down.'  Author: Sophie Hannah
'Every bit as brilliant as I thought it would be. Twisty, sinister and heartbreaking. Such beautiful writing; so, so dark. Prepare to be fully disturbed.' Author: Cressida McLaughlin
'Phenomenal. A deep and clever exploration of a dark subject. I've never read anything quite like it.'  Author: Fiona Mitchell
The Taken
A tense and powerful police procedural set in the city of Durham where a murdered preacher may be more monstrous than his own killer.
There's the lost. There's the missing. And there's the taken. She asked me once if we had any secrets, and I shook my head. 'No secrets between us,' she said. 'No,' I answered. 'Never ever.
In a Durham hotel at dawn, celebrated preacher Tristan Snow is murdered as he prays. None of the other guests – not even his daughter, his wife, or her sister – saw or heard anything.
But then again, they all had a motive for murder.
Detective Inspector Erica Martin is confronted by secrets and lies, lost in a case where nothing is what it seems.
With no answers, DI Martin is consumed by questions: Is anyone in this family innocent? When the victim might have been a monster – is there such a thing as justice? And does anyone deserve to die?
Reviews
'Had me on the edge of my sun lounger. Excellent plotting and a genuinely un-guessable resolution to the mystery' Author: Sophie Hannah
Bitter Fruits
Part psychological thriller; part detective novel – from a powerful and distinctive new voice.
The murder of a first-year university student shocks the city of Durham. The victim, Emily Brabents, was from the privileged and popular set at Joyce College, a cradle for the country's future elite.
As Detective Inspector Erica Martin investigates the college, she finds a close-knit community fuelled by jealousy, obsession and secrets. But the very last thing she expects is an instant confession . . .
The picture of Emily that begins to emerge is that of a girl wanted by everyone, but not truly known by anyone. Anyone, that is, except Daniel Shepherd. Her fellow student, ever-faithful friend and the only one who cares. The only one who would do anything for her . . .
Reviews:
'There is a gripping, economic precision in this highly charged thriller.' Ralph Fiennes
'Grabbed me from the first page and wouldn't let go. A compelling read, beautifully written … A tense, captivating tale, brilliantly told' Author: Rachel Abbott
'Once I started reading it I couldn't stop. A brilliantly plotted and utterly gripping thriller.' Author: Emma Kavanagh
'Superbly gripping … A very assured page-turning storm I read in one sitting.' Author: Stav Sherez
'A psychological police procedural … An intelligent and thrilling debut.' Peter Guttridge, Author and former Observer crime critic
'Intriguing and sinister with masterful plotting and tension. A bittersweet read by a new crime author I can't wait to read again.'Author: Mel Sherratt
'A thought-provoking, atmospheric and emotional page turning thriller – brimming with mystery and suspense. I absolutely loved this novel, and devoured it from cover to cover.' Author: Paul Pilkington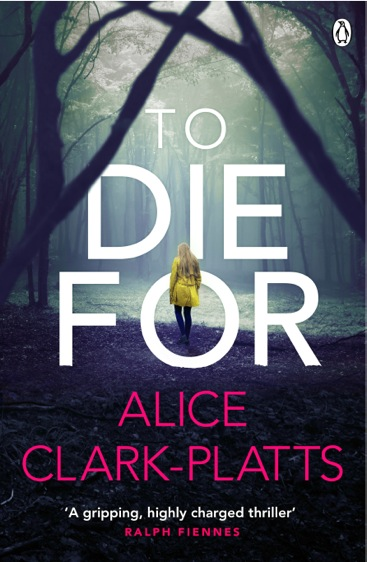 To Die For
In an empty car park, Ryan James sits in his car contemplating death. He has set up a hose pipe that is pouring carbon monoxide into the car, and his deciding whether or not to close the last window and end it all. Finally, he gets a text and decides to end his life.
Detective Martin is called to the scene the next day. At first she is convinced it is a simple suicide but as she looks deeper into the boy's life and his relationships she begins to wonder if someone else was involved..