The Flower Girls
The most terrifyingly compelling thriller of 2019.
YOU'LL NEVER FORGET THE FLOWER GIRLS
The Flower Girls. Laurel and Primrose.
One convicted of murder, the other given a new identity. Now, nineteen years later, another child has gone missing. And the Flower Girls are about to hit the headlines all over again…
Reviews
'Tense, intriguing and memorable. I couldn't put it down.'  Author: Sophie Hannah
'Every bit as brilliant as I thought it would be. Twisty, sinister and heartbreaking. Such beautiful writing; so, so dark. Prepare to be fully disturbed.' Author: Cressida McLaughlin
'Phenomenal. A deep and clever exploration of a dark subject. I've never read anything quite like it.'  Author: Fiona Mitchell
The Taken
A tense and powerful police procedural set in the city of Durham where a murdered preacher may be more monstrous than his own killer.
There's the lost. There's the missing. And there's the taken. She asked me once if we had any secrets, and I shook my head. 'No secrets between us,' she said. 'No,' I answered. 'Never ever.
In a Durham hotel at dawn, celebrated preacher Tristan Snow is murdered as he prays. None of the other guests – not even his daughter, his wife, or her sister – saw or heard anything.
But then again, they all had a motive for murder.
Detective Inspector Erica Martin is confronted by secrets and lies, lost in a case where nothing is what it seems.
With no answers, DI Martin is consumed by questions: Is anyone in this family innocent? When the victim might have been a monster – is there such a thing as justice? And does anyone deserve to die?
Reviews
'Had me on the edge of my sun lounger. Excellent plotting and a genuinely un-guessable resolution to the mystery' Author: Sophie Hannah
Bitter Fruits
Part psychological thriller; part detective novel – from a powerful and distinctive new voice.
The murder of a first-year university student shocks the city of Durham. The victim, Emily Brabents, was from the privileged and popular set at Joyce College, a cradle for the country's future elite.
As Detective Inspector Erica Martin investigates the college, she finds a close-knit community fuelled by jealousy, obsession and secrets. But the very last thing she expects is an instant confession . . .
The picture of Emily that begins to emerge is that of a girl wanted by everyone, but not truly known by anyone. Anyone, that is, except Daniel Shepherd. Her fellow student, ever-faithful friend and the only one who cares. The only one who would do anything for her . . .
Reviews:
'There is a gripping, economic precision in this highly charged thriller.' Ralph Fiennes
'Grabbed me from the first page and wouldn't let go. A compelling read, beautifully written … A tense, captivating tale, brilliantly told' Author: Rachel Abbott
'Once I started reading it I couldn't stop. A brilliantly plotted and utterly gripping thriller.' Author: Emma Kavanagh
'Superbly gripping … A very assured page-turning storm I read in one sitting.' Author: Stav Sherez
'A psychological police procedural … An intelligent and thrilling debut.' Peter Guttridge, Author and former Observer crime critic
'Intriguing and sinister with masterful plotting and tension. A bittersweet read by a new crime author I can't wait to read again.'Author: Mel Sherratt
'A thought-provoking, atmospheric and emotional page turning thriller – brimming with mystery and suspense. I absolutely loved this novel, and devoured it from cover to cover.' Author: Paul Pilkington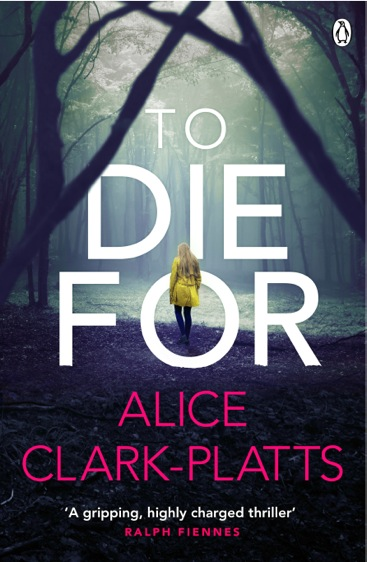 To Die For
In an empty car park, Ryan James sits in his car contemplating death. He has set up a hose pipe that is pouring carbon monoxide into the car, and his deciding whether or not to close the last window and end it all. Finally, he gets a text and decides to end his life.
Detective Martin is called to the scene the next day. At first she is convinced it is a simple suicide but as she looks deeper into the boy's life and his relationships she begins to wonder if someone else was involved..